My autobiography
My names are George Erot Erain. I was born in Rumuruti laikipia county in the year 1998, date 12 February. I was born the fifth one in a family of six children, three boys and three girls, that is the late Thomas Lokomwa, Francis Ekidor, Grace Apethe, Veronicah Ereng and Elizabeth Akwam. We were being taken care by our parents, that is my father James Erain and my mother Mary Marti. They always pressed us to education and they ensured that all of us is enrolled to school despite the belief of that era that education was not worthy to our Turkana community. My family could afford our school fees thanks to my father, who was working at that time in Nanyuki town as Guard officer at Vitacress limited company.
My primary education
I started my primary education at Magomano primary school in Laikipia county in the year 2005. In school I was a humble boy and I committed hard to my studies due to the strict concern of my parents. They were so harsh especially when I failed in one way or the other and since I feared to see them angry I always tried my best to perform well at school. At that time the late Lokomwa was my role model as he was also performing well at his higher classes. Within a very short period of time I was among the best performing students in my school. At that time we were given presents for good performance, so my parents were so happy and started realizing that I was able to achieve the best. At the end of my primary course, that is a eight-years course ended in the year 2011 in November, I took my final national examination, which was the Kenya certificate of primary education [KCPE]. The results were out on December 2011: with a score of 311 out of 500 I was the best student in my school. I  was happy for that despite the bad reputation of our school in our county due to the bad performance of its students during the previous years. My family was also happy because I was the best among the previous ones who had passed the examination. At that time the late Lokomwa had finished secondary school education and started his career in the field of athletics as a runner in Run2gether team, owned by an Austrian manager. My sister Grace and my brother Francis were still in secondary school. Lokomwa was then in charge of their school fees, which he could afford thanks to his first good performances at the races where he was invited at the beginning of his career.
My Secondary education
I was called to join big schools following my good performance in the national examination but due to the lack of funds to pay for the school fees of the three of us, in February 2012 I was taken by the late Lokomwa at Aiyam secondary school as a boarding student. The school  was his former school and also the same school where my brother Francis and my sister Grace were doing their final year. My life in secondary school, which was 5 kilometers away from our home, was good because Lokomwa was in charge of everything and he was always encouraging me to work hard in my class work, which I did because I knew he was taking care of me as if I were his son. I started performing well at school and when the school was closed for holidays I always went to late Lokomwa's training home in Gilgil where I was spending my days off. Lokomwa loved me so much and he was proud of my good performance at school. At this time my parents were at home doing farming and Lokomwa was also in charge of their welfare. I was so influenced by hardwork of the late Lokomwa and he kept reminding me to work hard and also work smart. In the year 2012 November my sister and my brother finished school. The late Lokomwa introduced Francis into athletics and that's how also Francis started his career as a runner for Run2gether team. The late Lokomwa was now to cater for his running career. Lokomwa was able also to enrol my sister to a certain running camp at Nyahururu and he paid the fees for her training.
In the year 2015 in November, I did my final examination at secondary school, that is Kenya certificate of secondary education [KCSE]. After finishing my final examination I was immediately called by the late Lokomwa to come to his training place in Gilgil. In Gilgil I was influenced a lot by living close to the runners who were training there and I started becoming interested into a running career, which I had never consider before that time. I was encouraged to start training, which I did with the help of my two brothers, the late Lokomwa and Francis because they were both living in Gilgil. The training was hard for the first three weeks but within a short period of time running became part of me and I started improving my perfomance day after day, while I was waiting for my secondary school final exanmination results.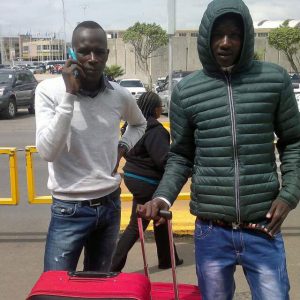 My life outside school
In the year 2016 running was becoming nice to me because I was training with my brothers. I started going up to seven kilometers training and as long as I was getting used to that pain of running I became able to join my brothers' training group, which I felt proud of. In the year 2016 February the examination results came out showing that I performed well: I had attained a mean grade of B- of 58 points out of 84 points. I was happy about my performance though I expected more than that. However, we all accepted the results and it was time to plan how I could have started university. Registrations to University in Kenya usually take place in the month of September every year. Waiting for that time to come I decided to continue to train in Gilgil with my brothers. Late Lokomwa, who was now like my father, had promised to take me to university to make sure I could get my university degree after completing my education. Before September had come, the government announced that they were going to place those students who scored B- of 58 and 59 points to private universities, which meant that the government was going to pay their school fees by 70% while the families of the students were to pay the rest 30%. Since I was among the students who had attained that score, I applied for the universities placement. I received my calling later from a private university called Marist International University College, located in Karen, in Nairobi, Kenya. The late Lokomwa was preparing to take me to Marist University on the date when I was asked to report. Unfortunetly by bad luck my late brother met his death just one day before my actual date of reporting in a road accident along Nyahururu-Gilgil highway. I was greatly  affected by what happened and I knew that was the end of my future education. We had to prepare for his burial with the help of his girl friend from Italy, Chiara. I  received a letter from the university calling me because the academic year had already started. My sister, who had joined police recently, was my remaining hope for paying my university school fees and my upkeep. She was able to raise some amount of money with the help of well wishers which could take me to school though it was not enough per the required amount in school. I was supposed to pay ksh.45,000 per year, my brother took me to the university where I had to cope with the units that I was taking. In the university I took degree of education that is a degree of teaching where I took a combination of two subjects that is Kiswahili and Christian Religious Education. The well wisher who was Lokomwa's friend finished to pay my first year school fees and now my sister took the responsibility of paying my house rent where I live and also my daily expenses. Though life was hard in the first semester bearing the pain of losing my beloved brother, who was like my father, I completed my end of semester exam and performed well, I attained a mean grade of A out of the seven units I did that semester.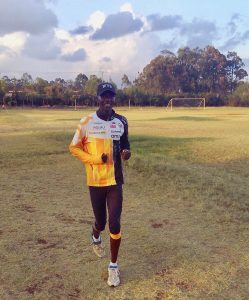 My life in Marist International University College
Life in the university is wonderful because the environment is friendly and the education they offer is high quality. The university has now lowered our school fees from ksh.45,000 per year to ksh.40,000 per year. Though life in Karen is expensive I try as much as possible to bear it with the help of my sister who is now the only one who my entire family is depending on. In fact my brother Francis has not yet been invited to Europe where he can run and hopefully earn money prize at his races. The area where my university is located is nice but it is full of tarmac road which makes it difficult for me to train. So for the moment I am using the school track for my training sessions. The training is good although I am training alone, without my group. Nervertheless I have improved a lot because I have attained good speed which can help me to bear any pace in a race. My dream is to keep the name of my late brother alive. I train everyday after classes to make sure  I am in good shape and ready to run well, if I would ever been given a chance to race in Europe, for the sake of the name of my brother. The university does not participate in inter-universities athletic competitions, that's why I am not able to attend the races. However I want to keep training so as to be ready to give my best whenever I would be given a chance to race. Everyday when I am training I want to perform like my brothe and more than that and I know Iwill make it. When I am out of the university I always go and stay at my brother Francis in Gilgil, where we train together till I go back to the university. I can say that for the moment I have improved my performance because I have had a lot of track sessions and races, that is 10,000m,5000m,3000m, as well as speed work of 50 minutes and also 1-hour runs around the track with a medium speed. During the weekend I usually go for road training of 25kms and 20kms. I expect more improvement and good performance in both running and my in degree in some years to come.